Planning For Great Ambient Home Theater Lighting
Home theater lighting is more than just "ambient" lighting. Many of our homeowners use the space for more than movie night. It serves as an essential space for entertaining, spending time with the family, and more. These other uses don't always require dark lighting; instead of needing home theater lighting that accommodates the various modes the room serves. Before starting on your home theater project, take into consideration what else space will be used for. Home theater lighting can require significant electrical work before the drywall and other structural elements are in place. Bringing in a certified electrician and lighting designer can add significant value to the design phase of your custom home theater. They can ensure the room is equipped with the right electrical requirements for the design, preventing frustration later on!
As home theaters expand to media rooms and multi-purpose rooms, it's common to select a room with windows. This is completely acceptable and when using blackout shades, you have a space that is adaptable to any scenario. In the images above, we are showing a project we designed in which the room was both a theater with a golf simulator as well as an entertaining space. As you can see, the shades, when closed, provide a perfectly lit environment for a movie or golf.
We've discussed that a home theater is frequently used as more than a dedicated movie room. Just as the functions in your room change, shouldn't the lighting? Using automation functionality like those found from RTI and others can effortlessly modify the light in the space to adapt to what's taking place. For example, if it's Game Night, a scene can be programmed into the system to allow the lights closest to the screen on, so gamers can see their controls. For movie night, the overhead lights can be dimmed, and the cove or column lighting can be applied.
Home Theater Lighting Options
Placing a light in a home theater, just to have a light doesn't do the space any justice and could have a negative effect on the experience. If your budget can afford it, we recommend integrating lighting elements into the architecture. Whether it's through column lights, cove lighting, step lighting or a star ceiling, there are endless options to blend lighting into the space. Let's take a deeper look into each: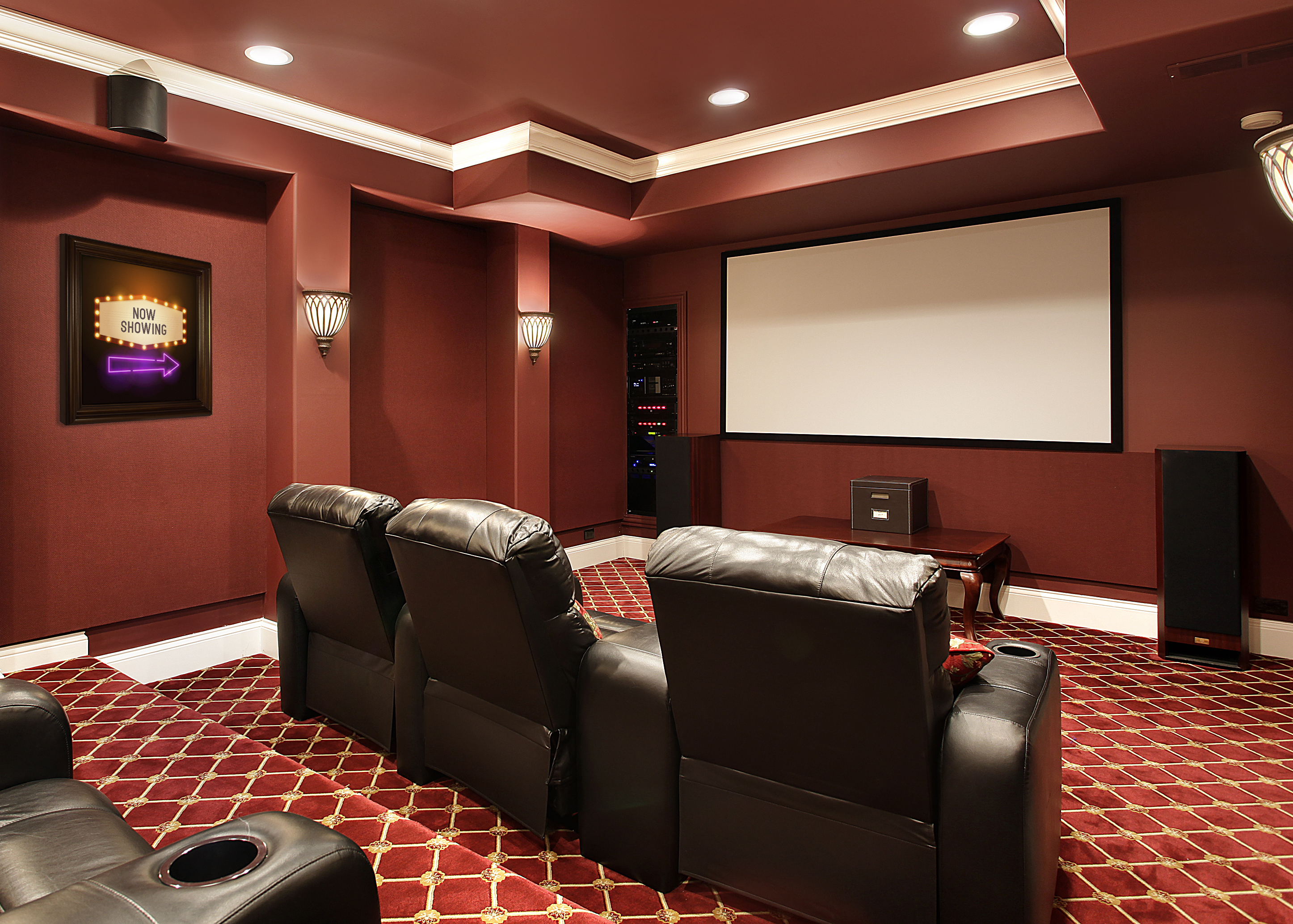 Using architectural sconces in your home theater can drastically enhance the tone of the space. In this project, the homeowner selected an art-deco sconce to complement the modern lines of the columns and cove. We also added LED lighting to the cove to enhance the architecture of the room as well as provide a perfect amount of ambient lighting.
This beautiful home theater design does an incredible job at combining column lighting, with sconces, cove lighting and our signature star ceiling. Combining all of these lighting features may sound ostentatious, but when applied in subtle tones, it can add a dramatic flair to any space.
Getting Home Theater Lighting Right
Proper home theater lighting is just as important to space as your selection of equipment. It is an essential part of defining space and creating the right ambiance. Whether you're designing a dedicated home theater or a media room, how the room is lit plays a crucial role in the way people feel from the moment they step inside! But getting it right requires a professional designer
You might also like https://smaarthouse.wpengine.com/how-to-make-your-living-room-feel-like-a-movie-theater/
https://smaart.house/wp-content/uploads/2020/10/Home-Theater-Lighting-e1601932704251.png
225
225
Bijou Lulla
https://smaarthouse.wpengine.com/wp-content/uploads/2017/09/smaart-house-logo.original-300x75.png
Bijou Lulla
2020-10-05 13:24:53
2020-10-05 13:24:53
How to Get Great Home Theater Lighting