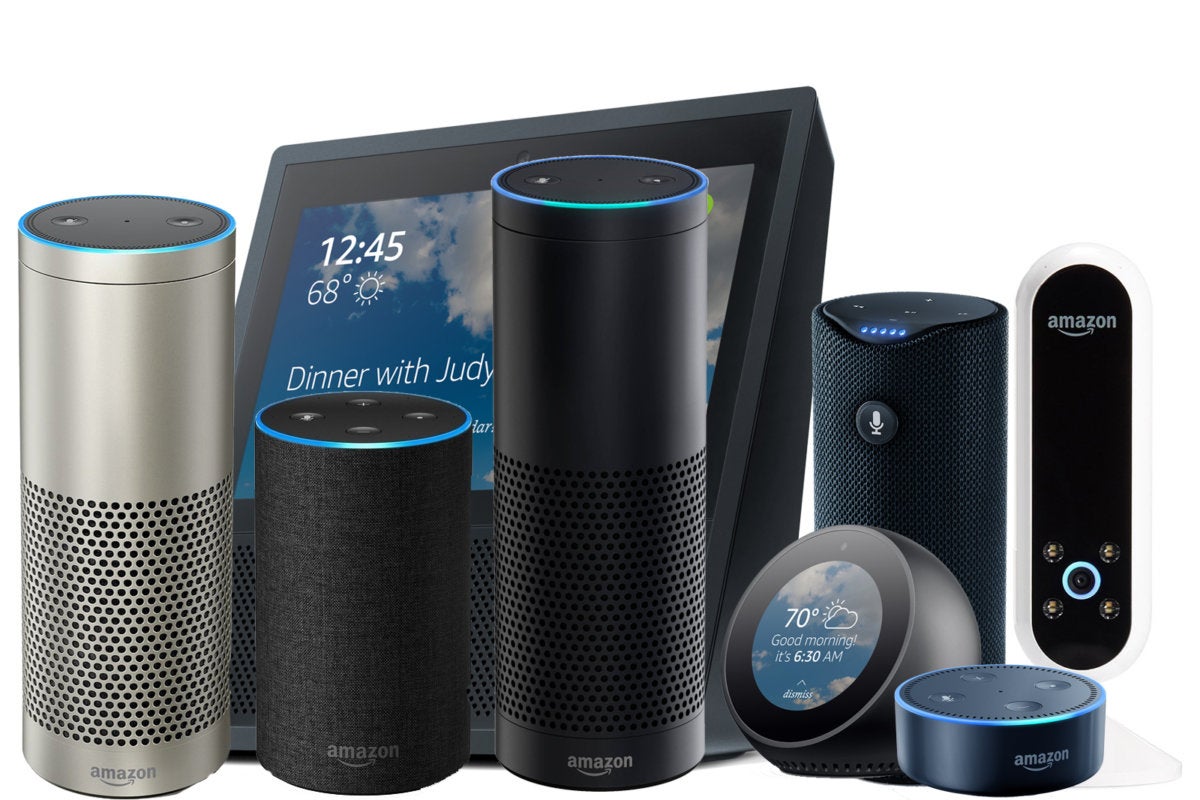 The Amazon Echo Family consists of a number of smart speakers, many now in their 2nd and 3rd generations.
With the enduringly popular Echo family with the ubiquitous digital assistant Alexa onboard, Amazon has already exerted a stranglehold on a key segment of the market.
Amazon's approach with smart speakers exemplifies the ethos of a connected home: user-friendly tech capable of controlling gadgets throughout the house hands-free.
Amazon is nevertheless locked into stiff competition with Apple and Google for complete dominance of the home operating system.
Today, we'll outline Amazon's emerging home automation line, and the growing range might surprise you in its depth.
And the obvious starting point is those world-famous smart speakers…
Smart Speakers
Amazon smart speakers debuted in late 2014 for Prime members. They soon went mainstream in mid-2015 when the first generation Echo was rolled out.
Until then, Amazon had focused fully on the expansion of its retail platform as well as pushing Amazon Web Services. As the revenue growth of the retail arm started slowing and margins remain very low, Amazon pivoted in an attempt to boost the stock price and swell the bottom line.
By December 2017, Amazon had shifted 36 million smart speakers. One year later, this had practically doubled to a staggering 66 million units. Revenue from smart speakers sold domestically is estimated at $1.2 billion in 2018. This is based on an average price of $60 for the 20 million units sold in the US that year.
With smart speakers launched across all major international markets, growth looks inevitable. CIRP (Consumer Intelligence Research Partners) data projects that growth at almost 100%.
Combined with an ever-growing range, Amazon are making it tough for Google to compete, even given the popularity of the Google Home smart speakers packing Google Assistant. Apple's Home Pod cannot be considered serious competition and appeals to a far slimmer market segment.
We'll briefly highlight some of the strongest performers in this robust line of smart speakers.
6 Echo Smart Speakers Worth Adding To Your Smart Home
As a foundation for home automation, an Echo device is the default option for millions.
Here are some of the multiple variants at your disposal:
Echo Second Generation
Echo Plus Second Generation
Echo Spot
Echo Dot
Echo Dot For Kids
Echo Show
Rebooted with a superior speaker and a fresh fabric design, the newest iteration of Echo is still flying off the shelves in volume.
While Amazon don't divulge too much specific information about the drivers, you'll get a pair of speakers equipped with Dolby processing. While "room-filling" is pushing it, you'll certainly an immersive soundscape to liven up your streaming.
As with all smart speakers, the audio is actually not the USP, though. If the sound disappoints, you can always hook up Echo to external speakers or headphones via Bluetooth or the 3.5mm outlet.
The key attraction, of course, is Alexa. Here, the 7 microphones and innovative beamforming mean Alexa can hear you across a busy, noisy room. You'll be able to take charge of all your compatible smart devices using voice commands as well as organizing your day.
With hands-free calls and messaging possible between Echo devices, this original model is still a smart home stalwart in 2018. All that remains to be seen now is when a third generation will be announced.
Upping the ante is Echo Plus, a smart speaker boasting an integrated Zigbee home hub.
The hub means you can take enhanced control of Zigbee-enabled devices without being bound to a third-party gateway. This makes Echo Plus a strong choice if you only plan to invest in a handful of smart devices and you want to keep costs down.
The same dynamic bass and clear upper end as Echo give you more than serviceable audio. You can tweak equalizer settings with voice commands. You can also drop in a second Echo Plus if you want true stereo sound.
Finished in fabric with a choice of 3 colorways, this unobtrusive smart speaker is our overall favorite from a broad and impressive range.
A tiny disc measuring just 4.1 x 3.8 x 3.6 inches and weighing less than 15oz, Echo Spot punches above its weight.
While marketed as a smart alarm clock, Spot can do so much more than wake you in the mornings. Once up, you can stream your favorite tunes to ease into your day. Ask Alexa for traffic reports and weather forecast to streamline your planning. Organization is where this digital assistant excels.
Just like with the larger stablemates, you'll also be able to take control of the compatible smart devices in your home hands-free.
If you want the ultimate in portability or a second Echo device to add to your collection, Spot is well worth investigating.
Now into a third generation, Echo Dot is also tiny with a price tag as skimpy as its footprint.
Sound has certainly improved, but it's advisable to hook up Dot to a third-party speaker using Bluetooth or an audio cable. That way, you'll get a far richer streaming experience whether from Amazon Music or Apple Music, YouTube or Spotify.
Hands-free calling between devices turns Echo Dot into a makeshift intercom. Drop-in allows you to stay in touch with your nearest and dearest or to call the kids down for dinner.
Boasting more than 50,000 skills, Alexa just keeps getting better. As with all Echo devices, smart home control is a breeze.
Set-up couldn't be simpler, and if you want to know what to do once you're up and running, we've got you covered here.
If you want to introduce your children to home automation in a safe and user-friendly way, the kids' version of Echo Dot is the obvious choice.
Blue, green, and red covers add a splash of fun to proceedings. You can also get multi-packs, ideal if you've got several children and you're on a tighter budget.
This smart speaker comes with a year's subscription to FreeTime Unlimited thrown in. Audible books, games, songs, and skills are all immaculately kid-friendly. You'll be able to take charge of everything using the Amazon Parent Dashboard. You can monitor activity, implement time limits and allow calls to designated numbers.
As with all Echo smart speakers, you can also encourage your kids to control the lights or plugs using voice commands. It's a nice, gently way to ease them into home automation without them tampering with your main Echo device.
The crowning glory is a 2-year limited warranty so you won't have any concerns about unleashing your children with a breakable device.
Echo Show is not cheap but steps the smart speaker game up by adding a 10-inch HD screen.
From watching videos to making calls with an added dimension, you should ask yourself honestly how much use you'll make of the screen. After all, if you're only planning to watch the occasional YouTube clip, it's senseless. If you're looking for a kitchen companion, though, you'll be delighted you made the investment. Following recipes and setting timers is brought to life on screen.
Packing the usual smart home control, you'll be able to discover and set up compatible Zigbee devices with no need for an additional hub.
https://smaarthouse.wpengine.com/wp-content/uploads/2017/09/smaart-house-logo.original-300x75.png
0
0
Bijou Lulla
https://smaarthouse.wpengine.com/wp-content/uploads/2017/09/smaart-house-logo.original-300x75.png
Bijou Lulla
2019-05-09 06:07:28
2019-05-09 06:07:28
Meet the Amazon Echo Family