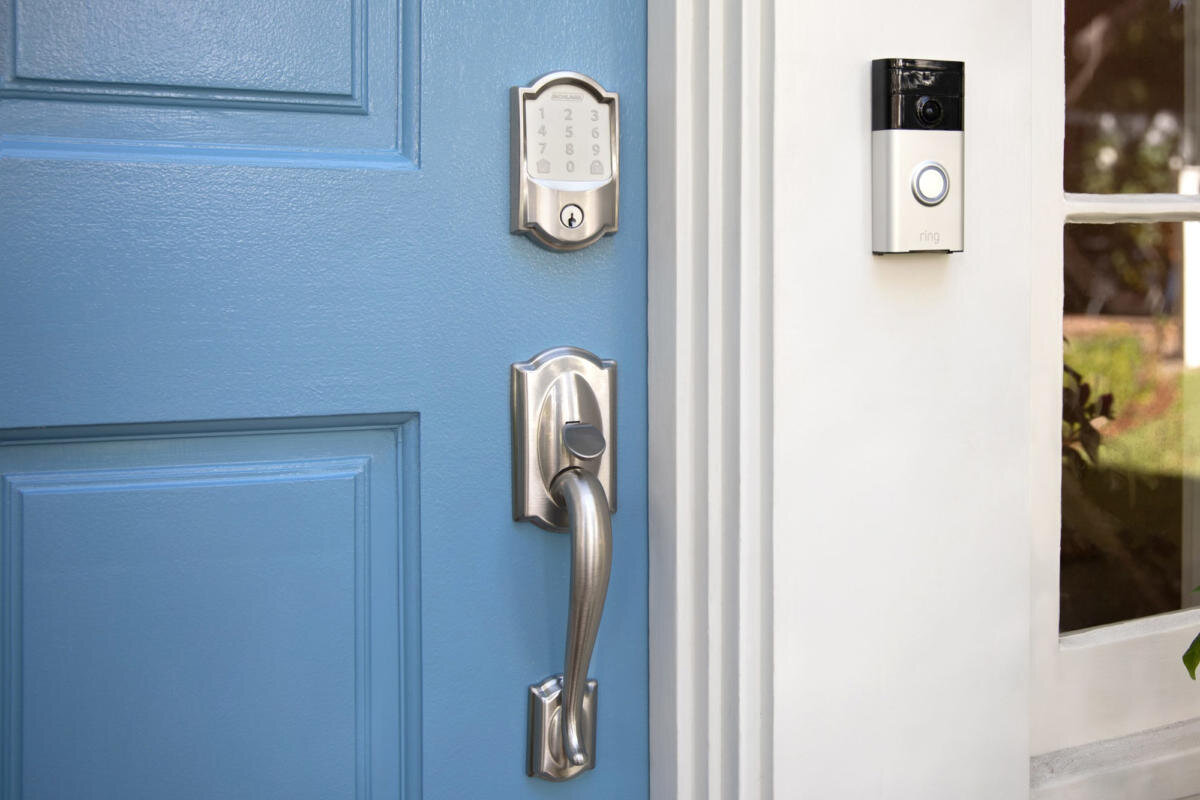 With Smart Home Security yome should be a sanctuary, and feeling as safe and secure as possible is a substantial piece of that idea. A huge upside of the progression of IoT is that home automation and security now seamlessly intersect in an ecosystem that opens up endless possibilities to increase home safety.
No matter where you live, setting up your home to be more safety-conscious with smart devices can be done simply and quickly, sometimes in the span of a single afternoon. Keep reading for a list of the essential devices you can get started with.
Smart Home Security Cameras
This one is the most obvious – security cameras are fundamental when it comes to protecting your home. Smart cameras provide you with remote-seeing power from anywhere and have useful purposes beyond just security. Many people use them to act as a baby monitor, check-in on pets during the workday, or check when a package is left at the front door.
Many homeowners and apartment dwellers are choosing to outfit their abode with easy-to-install video doorbells, spotlight cams, floodlight cams, indoor cams, and more. You can listen and speak to whoever's there – whether it be a neighbor, the mailman, or in scarier situations – an intruder. Nothing frightens a burglar faster than someone telling them to go away.
Generally, security cameras can provide peace of mind by letting you keep an eye on what's going on inside or outside your home at any time. Plus, all of the activity can be recorded and saved on the device's smartphone app for future reference.
Smart Home Security Locks
If you can never remember if you locked the door or not after you've left the house, a smart lock may be the cure for your worries. With just a couple of taps from your smartphone, you can check the status of your lock as well as lock and unlock it from anywhere.
Adopting a keyless lifestyle is safe for another reason too – you'll never have to hide a physical key under a mat again. You can easily let in trusted guests to your home by creating unique access codes that can be shared securely. When it's time to revoke access or change passcodes, that can easily be done as well.
Smart Home Garage Doors
Just like you can remotely control your locks, you can control your garage door as well. The automation options are super convenient, as you can use your smartphone to control it from anywhere, or automatically open or close it as your vehicle approaches.
Just like the front door scenario, if you've ever panicked because you forgot if you closed the garage door a few miles from home, you'll appreciate a smart garage door.
Smoke and CO2 Detectors
Forget waking up in the middle of the night to obnoxious chirping due to a battery needing to be replaced. Smoke and carbon monoxide detectors that can be controlled via a mobile app or central hub are an excellent choice for keeping your family safe at home.
Smart detectors provide remote monitoring and many other capabilities that go way beyond the classic battery-powered alarm systems. For example, smart devices such as the Nest Protect will alert your phone and tell you what's wrong and where smoke is coming from. You can easily hush alarms straight from the app, and the device can be connected to smart lighting to turn on lights in the event of smoke detection.
Water Sensors
Water sensors can detect leaks and unwanted water in your home – and potentially save you from extreme water damage and sky-high repair bills. These sensors alert users to leaks near appliances such as dishwashers, water heaters, faucets, washing machines, and more.
Along with checking for corroded, damaged, or rusty water supply lines and performing regular maintenance, water sensors can help you manage your risk through remote monitoring, early alerts, and freeze warnings. By catching problems early, you may be more apt to avoid expensive repairs and loss of treasured belongings.
Smart Home Lighting
The key to using smart lighting to deter burglars is making sure the actions of the lights mimic human activity. For example, outdoor lights should turn on at night and turn off during the day, while indoor lights should turn on and off in different rooms sporadically to make it look like someone is moving around.
The idea is to make the house look occupied, which means setting specific lights on schedules or running a Vacation Lights Routine with Yonomi, like so:
Turn on living room lamp 1 hour before sunset

Turn on bedroom lights 1 hour before sunset

Turn on outdoor lights 1 hour before sunset
You can also invest in lights with motion sensors that will turn on when motion is detected around your home.
By combining these smart home devices together with remote monitoring and control, you can customize new ways to make your home more secure.
You also might want to consider:
https://smaart.house/wp-content/uploads/2020/09/smart-home-security-1581731-1337822-e1599869089131.png
225
225
Bijou Lulla
https://smaarthouse.wpengine.com/wp-content/uploads/2017/09/smaart-house-logo.original-300x75.png
Bijou Lulla
2020-09-11 16:11:00
2020-09-11 16:11:00
Secure Your Home With The Latest In Smart Home Security