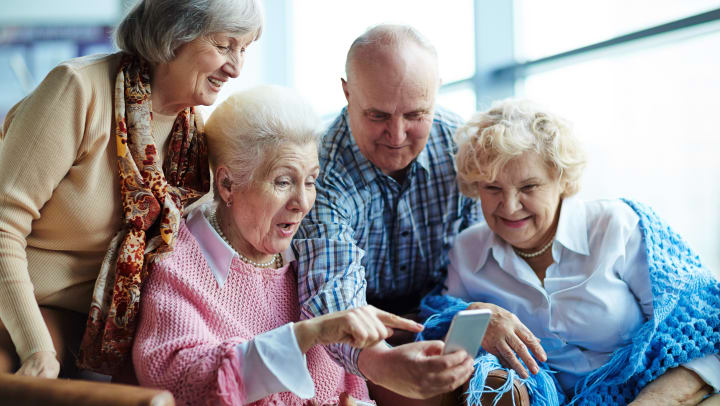 There is a lot of research data that shows older adults are embracing technology, but here are some unknown facts on how seniors are using technology!
Seniors are embracing technology – but are they using it frustration-free? A recent study by UCSD brings to attention several unknown facts of how seniors use technology. The study can be read in entirety here:
Technology to Support Aging in Place: Older Adults' Perspectives
According to Pew Research, roughly four in ten seniors are technology users:
The Pew study states "In 2000, 14% of those ages 65 and older were internet users; now 73% are. And while smartphone ownership was uncommon at all ages around the turn of the 21st century, now about half (53%) of people 65 and older are smartphone owners." The entire Pew study can be viewed here:
So what gives; a recent study published in the journal Healthcare analyzed older adults' perspectives on technology intended to allow them to stay in their own homes longer, so-called "aging in place." According to the lead author of the study, Shengzhi Wang of the Design Lab at the University of California San Diego (UCSD), researchers found that many times "frustration" with new technology made older adults unsure of their ability to use it, leaving them unmotivated to even try.
"Frustration appeared to be a significant barrier, which led to a lack of self-confidence and motivation to pursue using the technology," Wang wrote.
In their study, researchers found that low technology literacy—including lack of familiarity with tech terminology—and physical challenges, which can make adoption difficult, were the biggest barriers to the seniors' adoption of new technology.
So apparently the problem isn't owning them, it's using them, and because products/services are designing being designed top-down without input from older adults on their design. Marketing 101; involve seniors in the design process early!
At Smaart House, our Aging in Place practice always includes a strong human element component
https://smaart.house/wp-content/uploads/2019/01/AdobeStock_75680948-496x400.jpeg
400
496
Bijou Lulla
https://smaarthouse.wpengine.com/wp-content/uploads/2017/09/smaart-house-logo.original-300x75.png
Bijou Lulla
2019-11-23 06:04:23
2019-11-23 06:04:23
Some Unknown facts on How Seniors Use Technology